TEAM JDRF had a great Washington Tuna Classic. While we didn't win we did manage a 5 fish total weight of 104 lbs. And, we were able to catch 20 Tuna which was a great day.
The event was a great time. Nearly all the teams registered were able to go with the exception of a couple boats with mechanical issues. And nearly every team turned in fish. Also, all the wounded warriors were placed on boats and got to fish.
There is still time to Donate to JDRF till the 18th. I am challenging everyone that reads this to give 10 cents for every pound team JDRF caught. That is $10.40. You can go online to http://www.gigharborfishing.com/team-jdrf/ or click the picture above or the graphic below.
Also, If you work for someone like Boeing or Microsoft they may actually match donations also so check that out too please.
As it turns out I can catch tuna, thanks to some timely education from my friend Hawaiian Style Tom, but I am a crappy fund raiser.  So I'm asking again for you to help me help this terrific organization.
Good Fishin' To Ya'
Kerry W Allen
I commissioned my friend Tammy Derwick, the mermaid expert, to make me an image. My original goal was to make a graphic for the boat "Three Ladies" but as it evolved it became much more than that. What we have ended up with is a beautiful hand drawn portrait of my wife and daughters in mermaid form that we have framed and hung in a place of honor in our home.
I think you will agree Tammy does fine work. You can contact her and see more of her work at bethemyth.com.
Next we will start to work on a nice wrap.
Good Fishin' To Ya'
Kerry W Allen
Yes boys and girls it's time t o go a hunting the elusive wild dungeness crab. I get asked a lot where to go  for dungees in this area. Here's the deal. If you check out this map on Google maps you will see an area in Quartermaster Harbor that I like to crab but people crab all over that area. there are also crab in several other areas like Olalla, Ruston and north of Point Richmond. Use some kind of oily bait like cat food or Tuna. Turkey legs work well but I like to use my Salmon carcasses from the fish I catch. This keeps me from buying bait and allows me to transform more of the salmon into an edible form.
You also want to make sure you only keep legal crab.
For Dungeness it is males only and 6.25 inches inside the points. Males have a narrow triangle on their belly. like this:
Here is a helpful guide in the Reg book:
I'll be out first thing in the AM. good Luck and Good Fishin'
Good Fishin' To Ya'
Kerry W Allen
WDFW sent me a note today with this years Halibut Openers. For LaPush, where I usually fish, it will be just as we suspected. May 10, 12, 17 and 19th these are Thursday, Saturday. If there is quota left there will be an open on May 31 or June 2. If there is still Quota left after that there will be periodic openers Thursdays and/or Saturdays till the quota is filled.
For the rest of the coastal Marine areas and the Puget Sound you can check the press release here.
Good Fishin' To Ya'
Kerry W Allen
We have been  working on the boat getting it ready for Spring Halibut, Summer Salmon and Fall Tuna. We are adding 10 rocket launchers, Upgrading the electronics to add a Garmin 740S which will replace the old Furuno ls4000 fish finder and an old Garmin 210 GPS, replacing the plugs on my Scotty Downriggers, patching some holes and cleaning out a bunch of old wires. We are also adding a b60 tilted element thru hull transducer, it is scary drilling a 2 3/8 hole in the bottom of the boat.
While I was down yesterday laying out some stuff and cleaning out my wiring area my friend Ringo (Bob) was down to help me. Ringo is an old gill netter from back in the day and we were swapping stories, I was mostly listening. When I finally poked my head out of the cabin I saw what Ringo had been working on. He made this beautiful series of knots on my starboard grab rail and started on the port one as well.
These are beautiful but I told him when people ask me at the dock if I did that myself I was going to have to tell them I did. He just laughed. I also learned that he had never been halibut fishing off the coast here. So Ringo has promised to do more of his magic to my boat and I am going to make it a priority to get Ringo Halibut fishing this year. It's a win win. I get more cool stuff for the boat, and I get to go fishing with Ringo. It kicks ass being me.
Good Fishin' To Ya'
Kerry W Allen
Ok, so I totally suck at this WDFW two cards for crab thing. And, honestly I think it is a setup. WD
FW figures if they can make it complicated enough lots of people will forget and next year they can get an extra $10 out of them. So much for my conspiracy theory.
I am writing this post to tell you all that I and my 12 year old daughter just turned in our winter crab catch to WDFW at this site. It was a great winter season.
Good Luck.
Good Fishin' To Ya'
Kerry W Allen
Regular readers know this year I have focused on learning the Washington Coast Tuna fishery. I have learned a lot of lessons that I will use in the future but there was one lesson I was able to bring with me from years of winter blackmouth fishing that helped me out there.
Often when fishing Blackmouth, or really any time fishing in the fall and winter, I find that I am the only boat in the area.
This situation happened to me when I was Tuna fishing last week. I had planned to go with a couple other boats but as is sometimes the case the other boats decided to go the following day so I found that I was the only boat going. Rather than cancel my last tuna trip of the year I decided to go and use what I have learned from winter blackmouth fishing and make sure several other people knew where I was going and when I would be back. I even told them if I was not back by 3:30 start looking for me. When I pulled in to Westport about 3:15 I checked in with the people I had coordinated with but if I hadn't they knew to start looking.
This is very important on the ocean as it can be challenging at times just staying on the boat. This is also important in the sound where the water is not always so challenging and is easily underestimated. Every year we read in the paper about a guy that went fishing alone one day and washed up on the beach a couple days later. I was out blackmouth fishing on a dead calm day a few years ago, caught one and stepped out on the swim step to net it. There I was out by myself, on the swim step trying to negotiate my nine foot rod and a four foot leader, the long handled net and the boat. Fish goes on way net goes the other and I scare the crap out of myself thinking I'm going over. later, it occurred to me that if I did fall overboard the boat would keep going without me and I probably couldn't swim to shore.
Lesson learned. It's always a good idea to let someone know where you are going and when you'll be back, especially when you will be out by yourself. This goes for Puget Sound  or offshore or even your local lake. And always wear a life jacket, especially when fishing alone in the boat. accidents happen and a little preparedness can make the difference between being the guy in the picture or the guy in the paper.
Also remember that Boaters  licensing is being phased in in Washington state. For details check out this link: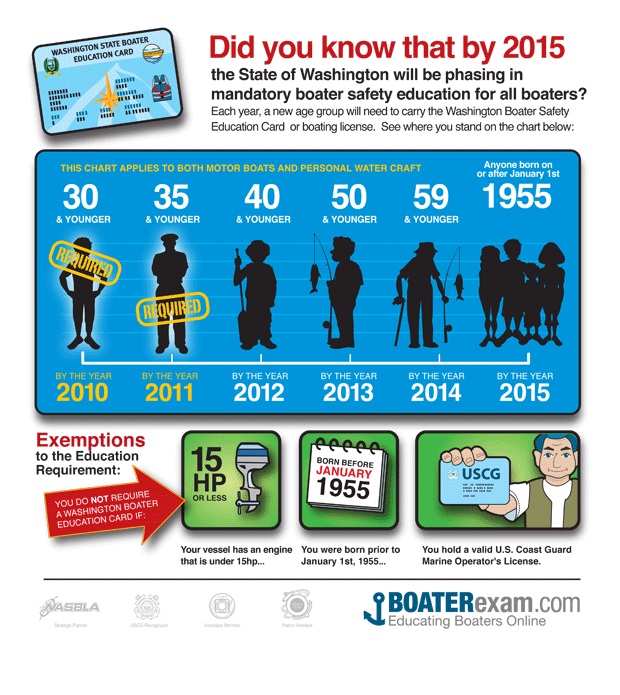 Graphic courtesy of BoaterExam.com – Get Your Boating License Online!
Good Fishin' To Ya'
Kerry W Allen
I took the boat in to Lighthouse Marine in Gig Harbor to have the outdrive removed and serviced. There was really nothing terribly wrong with it but things had been feeling a little off lately and it has been 6 or 7 years since its been off so it was past due.
They called this morning to let me know how it was going so I decided to stop by after lunch and take a couple of pictures. Jay takes me out to look at it and we were quickly joined by Mike. The first thing they tell me is the u joins and gimbals are in pretty good shape.
Then, I notice all these eels on the ground. I ask whats that. Jay tells me there were eels in the outdrive and explains that it is actually pretty common. Eels living in the outdrive is common? they explained to me they really don't hurt anything, unless there are a lot.
The other thing they found upon removing the drive was a glob of plastic plugging up the exhaust almost completely. A couple years ago my port riser go
t plugged and heated up the exhaust elbow. I had some hydraulic lines running along this elbow wich melted and sprayed hydraulic fluid on the hot elbow and smoked like hell. this melted the bellows and as it turns out the flapper valve. I didn't know that it had a flapper valve so I never went looking for it so it just sat in there and turned into an obstruction. This had been causing me to loose power for some time but I never really noticed. The removal of this should give me more power and better fuel economy in the future. That's why we have the outdrive removed and serviced every couple years.
Good Fishin' To Ya'
Kerry W Allen
Clam diggers today got the go-ahead to proceed with the first razor-clam dig of the fall season, starting at noon Thursday, Oct. 7 at Twin Harbors beach and expanding to four other ocean beaches Friday and Saturday. The Washington Department of Fish and Wildlife (WDFW) approved the digs at all five beaches after marine toxin tests confirmed the clams were safe to eat.
For the first opening, razor-clam digging will be allowed Oct. 7-10 at Twin Harbors beach and Oct. 8-9 at Copalis, Mocrocks, Kalaloch and Long Beach. No digging will be allowed before noon on any of the five razor-clam beaches.
Below is the schedule of approved digging days, along with evening low tides, announced by WDFW and Olympic National Park:
Oct. 7, Thurs. – 6:55 p.m. (-1.0 ft.), Twin Harbors

Oct. 8, Fri. – 7:42 p.m. (-1.4 ft.), Long Beach, Twin Harbors, Copalis, Mocrocks, Kalaloch

Oct. 9, Sat. – 8:28 p.m. (-1.5 ft.), Long Beach, Twin Harbors, Copalis, Mocrocks, Kalaloch

Oct. 10, Sun. – 9:15 p.m. (-1.3 ft.), Twin Harbors
Read the release Here





Good Fishin' To Ya'
Kerry W Allen
Good Fishin' To Ya'
Kerry W Allen