Posts Tagged 'Pacific Ocean'
TEAM JDRF had a great Washington Tuna Classic. While we didn't win we did manage a 5 fish total weight of 104 lbs. And, we were able to catch 20 Tuna which was a great day.
The event was a great time. Nearly all the teams registered were able to go with the exception of a couple boats with mechanical issues. And nearly every team turned in fish. Also, all the wounded warriors were placed on boats and got to fish.
There is still time to Donate to JDRF till the 18th. I am challenging everyone that reads this to give 10 cents for every pound team JDRF caught. That is $10.40. You can go online to http://www.gigharborfishing.com/team-jdrf/ or click the picture above or the graphic below.
Also, If you work for someone like Boeing or Microsoft they may actually match donations also so check that out too please.
As it turns out I can catch tuna, thanks to some timely education from my friend Hawaiian Style Tom, but I am a crappy fund raiser.  So I'm asking again for you to help me help this terrific organization.
Good Fishin' To Ya'
Kerry W Allen
I think every father that loves the outdoors dreams of one day sharing that love with their kids. For me that dream became a reality Saturday when I was able to take my twin daughters Kristina and Jessica offshore for the La Push Halibut opener.
Taking children fishing has its challenges and with daughters it is a little different because I didn't want to put any pressure on them to be tom-boyish or tough just to impress me. Beyond that Kristina is diabetic so that raised challenges of it's own.
On the drive up to La Push we talked about safety issues, diabetes issues and how things were going to work. We stopped at Fat Smitty's because everyone should experience that at least once. I also got to share with my children some of the most beautiful scenery in the State of Washington if not the country. When we got to Lake Crescent they were awestruck. And they loved the Olympic National Forest. But nothing could prepare them for the drive into La Push. When you come around the corner and see Smith Island with the sun setting behind it. Even Kristina was rendered speechless, and that is no small feat.
We took a sampling of all of our diabetic supplies. Being six to eight hours away from a hospital means we had to be prepared for any contingency. Thankfully, the only issue we had was when her Blood sugar got a little low and her tummy was a little upset so she couldn't eat. she was able to choke down a little juice to bring the blood sugar up and later, after she caught the first fish on the trip, the queasiness went away and she was able to eat.
We chose to have both kids wear the scopalamine patch. This was their first
ocean trip and we wanted to do everything we could to make it as pleasant as possible. When we left La Push the kids were very excited by the first few waves and seemed to really enjoy the ride out. After sitting at the corner for a few minutes both kids got a little queasy, Jessica got a little upset about this which made it worse. Once she settled down and was able to eat a little and take a nap she felt better. Toward the end of the day we were able to have a nice talk on the bow, sitting in the sun and giggling a bit.
Kristina caught the first fish, She said it was easier than arm wrestling Tristan. I don't know who Tristan is but he must be pretty strong. Jessica caught the last after she got over a little bout of seasickness. Patti, my terrific wife, caught one about 40 pounds and hooked up two others. The weather was perfect and the ocean conditions were as good as they could be. It was sunny and 70 degrees. Patti caught the big one in a bikini (I Win).
I had the best crew on the planet. My friends Kevin and Jeff agreed before we went that this day was about  the kids and they both made sacrifices and were very helpful to them.
Jeff pulled up several lings and was getting a little frustrated by the end that he couldn't hook a halibut. It was funny to watch him cuss about catching a 20 pound ling.
We got all our halibut. We decided not to go out to our ling hole as this would be harder on the kids but we did catch a few in the halibut spot. The kids each got to real in a few and Patti was a halibut machine. we even caught about a 15 pound Chinook Salmon that we successfully revived and released.
Final count was 6 Halibut, 8 Ling Cod, 1 Chinook Salmon, a pipe jig, a spreader rig and about 800 feet of spectra line we snagged off the bottom. Oh, and a sea cucumber, I think. 2 kids completely worn out, 1 happy wife and the proudest father ever.
MY FAMILY ROCK!!!!!!!!!
Good Fishin' To Ya'
Kerry W Allen
WDFW sent me a note today with this years Halibut Openers. For LaPush, where I usually fish, it will be just as we suspected. May 10, 12, 17 and 19th these are Thursday, Saturday. If there is quota left there will be an open on May 31 or June 2. If there is still Quota left after that there will be periodic openers Thursdays and/or Saturdays till the quota is filled.
For the rest of the coastal Marine areas and the Puget Sound you can check the press release here.
Good Fishin' To Ya'
Kerry W Allen
this is a link to a story that impressed me about cold water rescue. Though the temperature of the water in the sound doesn't change that much from season to season in the winter there is a greater likelihood, if you go in, you will be in for quite a while as there are fewer people fishing.
I will be printing this out, laminating it and keeping it on the boat.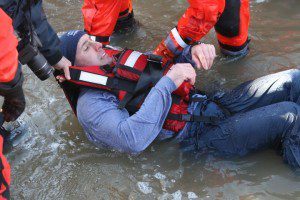 Good Fishin' To Ya'
Kerry W Allen
I made my third Tuna trip Saturday. The first one we got three, two trolling and one on bait, but everyone was having to scratch for what they got. The second we were skunked and it was like fishing in the dessert. Turns out we missed them by about thirty miles.
Between the second and third I learned about "the slide".
This is the term used for the transition between trolling and bait. Simply when you hook up on the troll the trick is to turn the boat gently toward the hooked up rig and shut down, start throwing chum in the direction of the fish to try to bring the school to the boat. Some guys will cast swim baits or lead jigs to help with this.
So we goes out and starts to troll. We troll plugs because that is what worked before. We catch one right away, screw up the slide and they're gone. We see jumpers occasionally but can't get them to take (there's a lesson here). We finally headed south to where someone said they were catching and tried there. As soon as we got there we hear on the radio someone is catching back near where we were. Crazy. Suddenly ZZZZZZZZZZZZZZZZZZZing!! tuna on, port side!! I turn the boat a bit shut down and go back and start clearing gear. Meanwhile john is reeling in the troll fish and mike is throwing chum and rigging live bait. I get a chovie in and let him swim. a couple secconds go by and the chovie starts to wiggle, then the line just starts steadily running off the reel. I count to 5 and engage the drag and…….the fight is on.
we get him in the boat and john hooks up another, then mike on a jig, I hook another and hand it off to Kevin. His fish runs under the boat and cuts the line on the trim tab. John catches one more and a few break off and get away. Then it just sort of shut off. we tried to troll around a bit more but it was late and we needed to get home so.
We had a lot of new experiences this time but the real lesson was when we saw the jumpers we should have slid up close and thew bait and them. Basically going strait to a bait stop without the troll. This is how several others were able to catch 25 or 30. Tuna lessons can be very time consuming, expensive and frustrating. But I have discovered a fishery that is absolutely addictive, that only a relative hand full of people participate in and (unlike Puget Sound Salmon) information is shared freely. There are no secret spots or special tactics. Everyone cooperates because there are lots of fish and the ocean is very big.
Another big shout out to all the guys on Bloodydecks.com for all the help.
Good Fishin' To Ya'
Kerry W Allen
If your a regular reader you know this year I have been learning to fish Tuna.
So I get on line to the great offshore guys on Bloodydecks.com and learn from people that have been doing it for a while.
One of the things I learned was that because it has been a fairly small market it is hard to find good tuna gear here. Until now.
Many Washington anglers will be familiar with Bo Palmer from Defiance Boats. Local Gig Harbor folks will know that Tiderunner Boats were once manufactured and sold here. And by a long and winding road Tiderunner is now part of the defiance boat family.
So I get on line and see that Bo has opened a new store out by the Bremerton National Airport in Port Orchard. Guys from Bloodydecks that had been there say he has everything I need for tuna. And they are the guys that know. The wife and I decide it's a nice day for a road trip so we jump in the car and off we go.
From Gig Harbor you can get there taking 16 to hwy3 through beautiful downtown Gorst (gateway to Belfair). but we decided to take back roads  for fun.  On the way, out in the middle of nowhere, We hit this road construction that turns out to be another perfectly good intersection our wonderful state of Washington is screwing into a roundy round (Pet Peeve).
We get there and The store is great!!
Bo himself helps me find the things I need and explains to me how to rig and use the gear. Now you know that when you go to a store asking what do I need for this fishery usually the salesman will grab a hand full of what ever costs the most and say you absolutely need this and a dozen of those etc. So I did a little homework ahead of time. I knew going in I needed x-wraps, clones and live bait hooks. Bo explained to me which hooks to buy, how to use weights to keep live bait underwater and even helped me find some purple x-wraps that were in the back. What he did not do was try to sell me a bunch of crap I didn't need. I was also able to find some salmon stuff I had been looking for but was sold out in other places.
Bo even helped my wife pick out a kick ass birthday present for me. 
Overall the store was a bit of a hike. For me it is about the same distance as Sportco in Fife or Warehouse in Silverdale (but those places don't carry much tuna gear). Prices were about what you would expect. The big difference for me is that this is a real fisherman's store.
It has all the stuff you really need without all the extraneous crap larger stores have to carry. I can see this becoming a regular stop for me when planning any type of fishing.
Thanks Bo
Good Fishin' To Ya'
Kerry W Allen
LaPush Saturday was a great experience.
We were unable to get moorage because one of the local forums descended on the place like locust and gobbled up all the spaces before April. This was actually worked out well for me. You see, this way I got to experience first hand the launching ramp process. If you've never experienced a launching ramp on a one day opener or a derby it can be quite a cluster and historically LaPush is no exception.
Enter Billy, the new harbormaster at LaPush Marina. He had the whole thing running like a Swiss watch. When we pulled into town we were met by a guy that directed us to the line and told us it would be about 15 minutes (we were about 12 in line and I was sure it would be longer). Things got moving well, there was plenty of help on the ramp. Another guy took our fee when we were about third and we launched in about 20 minutes. That was great.
We made good time on the run out. We arrived at the Southwest Corner of the C in about two hours. I think my friend Brent could have handled about another ten minutes but not much more. We immediately started catching lings. We let two small ones go and kept two. My friend Kevin got tired of letting lings go so he handed me the rod and I immediately hooked up about a 40 pound Halibut. Then things sort of shut off for us. The current picked up a bit and we snagged bottom a couple times. we did a couple drifts in the next 3 hours and caught nothing. Listening to the radio I was able to interpret some cryptic info and we moved to a spot about a half mile from where we were and Wham!! we caught three halibut and let one go in about the next twenty minutes. We started in and stopped at the rock pile for another ling, and to give away a little more gear, and then we headed home.
When we arrived back at LaPush Billy had a system set up for temporary parking while we cleaned fish and got the truck. The retrieve at the ramp was another very smooth experience and we were on the road in no time at all. Funny story I was in line behind a blue Dodge pickup with a freezer strapped in the back. Yesterday I saw that same truck towing a trophy 2002 and crossing the narrows bridge. If I'd a known you were a local I would have said hi.
Oh and
I LOVE MY BOAT
I can't wait till next week
Good Fishin' To Ya'
Kerry W Allen