this is a link to a story that impressed me about cold water rescue. Though the temperature of the water in the sound doesn't change that much from season to season in the winter there is a greater likelihood, if you go in, you will be in for quite a while as there are fewer people fishing.
I will be printing this out, laminating it and keeping it on the boat.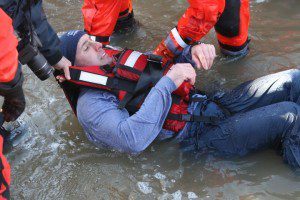 Good Fishin' To Ya'
Kerry W Allen
Regular readers know this year I have focused on learning the Washington Coast Tuna fishery. I have learned a lot of lessons that I will use in the future but there was one lesson I was able to bring with me from years of winter blackmouth fishing that helped me out there.
Often when fishing Blackmouth, or really any time fishing in the fall and winter, I find that I am the only boat in the area.
This situation happened to me when I was Tuna fishing last week. I had planned to go with a couple other boats but as is sometimes the case the other boats decided to go the following day so I found that I was the only boat going. Rather than cancel my last tuna trip of the year I decided to go and use what I have learned from winter blackmouth fishing and make sure several other people knew where I was going and when I would be back. I even told them if I was not back by 3:30 start looking for me. When I pulled in to Westport about 3:15 I checked in with the people I had coordinated with but if I hadn't they knew to start looking.
This is very important on the ocean as it can be challenging at times just staying on the boat. This is also important in the sound where the water is not always so challenging and is easily underestimated. Every year we read in the paper about a guy that went fishing alone one day and washed up on the beach a couple days later. I was out blackmouth fishing on a dead calm day a few years ago, caught one and stepped out on the swim step to net it. There I was out by myself, on the swim step trying to negotiate my nine foot rod and a four foot leader, the long handled net and the boat. Fish goes on way net goes the other and I scare the crap out of myself thinking I'm going over. later, it occurred to me that if I did fall overboard the boat would keep going without me and I probably couldn't swim to shore.
Lesson learned. It's always a good idea to let someone know where you are going and when you'll be back, especially when you will be out by yourself. This goes for Puget Sound  or offshore or even your local lake. And always wear a life jacket, especially when fishing alone in the boat. accidents happen and a little preparedness can make the difference between being the guy in the picture or the guy in the paper.
Also remember that Boaters  licensing is being phased in in Washington state. For details check out this link: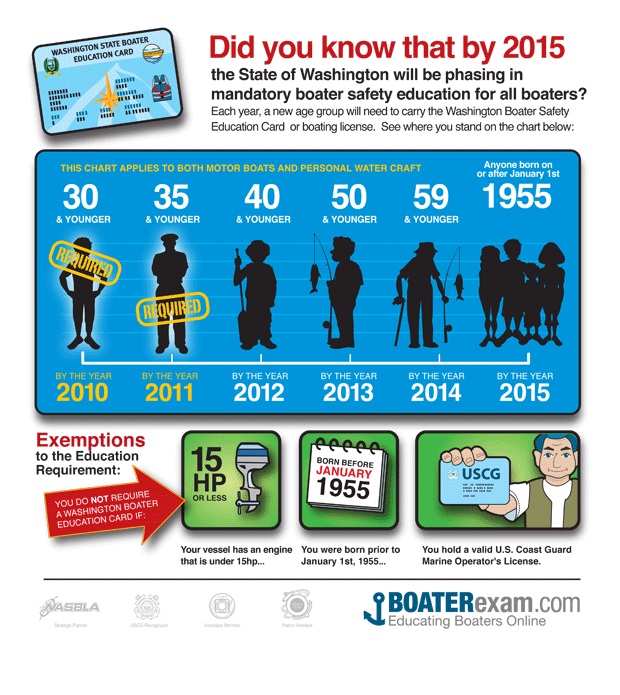 Graphic courtesy of BoaterExam.com – Get Your Boating License Online!
Good Fishin' To Ya'
Kerry W Allen